Is washing your hair your least favorite aspect of your routine? You're not alone! Many find wash time to be a lot of maintenance because afterwards there is tons of dryness or the manipulation from washes may cause breakage. Well it can be a bit of a chore if you don't know the tricks. To make wash time more gentle on your strands use these tips:
#1 Detangle before washing your hair
When you wash hair that is not detangled prior, tangles can be even worse. Detangle your hair with a wide tooth comb and add some of your favorite detangling product for some slip before washing your hair.  Cheapie conditioners are perfect for detangling before shampoo.  Read 7 Other Ways to Use Cheapie Conditioners.
#2 Pre-poo your hair
Have hair that gets really dry after each shampoo? Try pre-pooing! Coconut oil is great to prepoo with as it helps prevent the hair from experiencing hygral fatigue and can prevent your hair from getting too stripped.  Read more reason why coconut is the holy grail of natural oils.
#3 Water Temperature Matters
Hot water will dry out your hair and leave it with a stripped feeling while washing with lukewarm to cool water does not.  You are more likely to retain more moisture with cooler temperatures.
Warmer temperatures are great for when you need to remove a lot of buildup from your hair but it can also remove your hair's natural oils leaving it with a dry feeling.
Cold showers aren't fun, but that's when a removable shower head comes into play.  You can direct the water to your hair rather than your entire body.
#4 Co-wash instead of shampoo wash
A conditioner will usually have enough cleansing agents to remove dirt, oil, and buildup from your hair without being too rough on it. So if you find that your hair gets too dry after washes opt for using only conditioner.
Keep in mind that you'll still have to shampoo every so often to remove product buildup, so if you wash your hair 4 times a month: 3 times you can co-wash and 1 time you can shampoo if your hair and scalp tolerate it.
Check out these 10 Co-washing Conditioners
[ad#ad3]
#5 If you shampoo use a sulfate-free brand
Sulfates are the worse! The last time, I used a shampoo with sulfate (ingredients with sulfate at the end i.e. sodium laurel sulfate). It left my hair so dry.
Avoid this ingredient at all costs and use moisturizing shampoos that are designed for dry hair.  Great moisturizing sulfate-free shampoos are Shea Moisture Raw Shea Retention Shampoo
 (Amazon, $14.99), tgin Moisture Rich Sulfate Free Shampoo (Amazon
, $14.99), or Ouidad Superfruit Renewal Clarifying Cream Shampoo (Beauty.com, $18).
#6 Wash your hair in sections
If your hair tangles easily, you may want to try washing in sections. You can accomplish this by braiding or twisting your hair into 4 or more sections.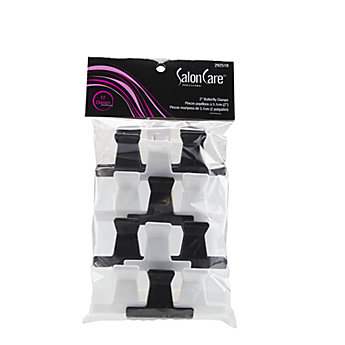 #7  Use clips to help keep your sections in place
If you have tried braiding or twisting your hair before washing, you know plaits have a tendency to unravel.  Use butterfly clips to hold them in place.
Buy: Salon Care 2″ Butterfly Clamp Black/White
 (Sally Beauty Supply, $1.99)
#8 Deep condition your hair often
Deep conditioning will improve your hair's manageability, moisture, and will make your styling process easier. When you have used a good deep conditioner you can tell because the detangling process is way smoother! Here are 5 Best Moisturizing Deep Conditioners.
#9  If you have fine, breakage-prone hair; detangle and style damp hair (not wet…)
You can reduce breakage by manipulating damp hair. Hair that's completely soaking wet is extremely weak.  While dry hair isn't the easiest to work with. You have to find a saturation happy medium. By styling or manipulating damp hair you have the perfect balance that will allow you to glide through your hair more easily.
SEE ALSO: The Best Time To Work With Hair 
#10 Use a good leave-in conditioner to seal the deal
A good leave-in like Cantu Leave-In Conditioner & Repair Cream or EDEN BodyWorks All Natural Coconut Shea Leave In Conditioner will leave hair more moisturized and manageable. Apply to damp hair to make detangling a breeze.