I saw a three-strand twists tutorial for the first time about 5 years ago.  Initially, I was majorly confused. 3 Strand Twists? You mean braids, right? But no… Its really a twist with 3 individual pieces of hair that intertwine around each other; to create one twist (See more pictures below). Its very similar to two-strand twists when it comes to technique. Instead of small waves, your hair is set in more of a spiral curl look. It enhances your natural curl pattern. This is a perfect style for those completely natural or transitioning (just add a hair roller at the end to keep hair from unraveling). A regular tutorial really doesn't do it any justice, watch this tutorial with 3 different color strings.
In the beginning I couldn't really wrap my head around this hairstyle. But to my surprise it really isn't difficult at all. If you know how to braid or twist, you will catch on relatively fast.  [Quick tip: don't watch your hands in the mirror, it'll really confuse you.]
Here's my step-by-step guide to 3-Strand Twists
Detangle Your Hair Throughly
You can style in bigger sections with this style but make sure your hair is throughly detangled.  I always keep my hair in a minimum of 4 sections.  This makes my life easier. I detangled each section in the shower with a wide tooth comb.  Aside from detangling, I do the L.O.C method on damp hair, with my coconut-olive oil mix, and whatever rinse-out or deep conditioner I'm using at the time.
Read: Benefits of Coconut Oil, Olive Oil, and More
Read: 5 Best Deep Conditioners for Natural Hair
A Leave-In Ensures Frizz Control & Add Moisture
If you have my 10 Step Guide To Winter Hair Care, you already know your leave-in conditioner is essential to retaining moisture.  Frizz control is an added bonus of your leave-in conditioner.  When I'm not using Eden BodyWorks Coconut Shea Leave-In Conditioner, I have Earth's Nectar Coconut Curls on hand.  My natural hair has a high porosity, so I do the L.O.C method in the shower and before styling. It goes like this: apply water-based leave-in, oil and cream (styling product) from ends to roots.  My hair stays moisturized longer. Its soft and well-defined.
Use a Styling Product With Hold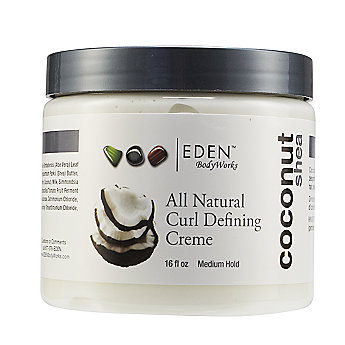 If you want well-defined curls, Eden BodyWorks Coconut Shea Curl Defining Créme (available at Sally's Beauty Supply Store, $7.89) is what you need. If you follow @naturalhairrule on Instagram, you know I use this product, faithfully. A little bit goes a long. I apply in sections from ends to root.  I started each twist with a braid because I don't want puffy roots. Each section was smoothed with a curl defining brush like my Denman Brush.  This made for smoother twists with well-defined curls at the ends.  See Pictures Below
Cover & Re-Twist, Repeat
This step is highly recommended.  This 3-Strand Twists Out will last up to a week or longer with minimal frizz if you cover it nightly with a satin scarf and re-twist.  Your hair can become dry but re-twisting at night with a little water and light moisturizer will completely eliminate any dryness.  It also buys you extra time with this style. You can do 3-strand twists, but regular twists are good too.
Additional notes: For best results, sit under a hooded dryer for 30 minutes to an hour to help your style set.  I know many are against heat but indirect from a hooded dryer won't hurt at all. You can style in larger sections for this style but this increases your air drying time. A few minutes under the dryer will save you time and keep you from going out with wet hair.
This is the hooded dryer I use.
Read: When Its Okay To Use Indirect Heat (Hooded Dryer)
Have You Tried This Style? What Were Your Results?