The "natural hair" market is a very popular consumer market right now. Years ago, natural hair products were designed by small business owners and primarily available on the web. Today, those small businesses have grown significantly and you can now find them in major retail outlets like Target, Walmart, Walgreens, Sephora, and even Macy's. The market has grown so much that mainstream companies have switched their focus from relaxed to natural hair. And many of us are trying them even with the "no-no ingredients".  But what about all of the great organic products on the market –targeted to all hair types— but work GREAT on natural hair? If you haven't given them a try, I encourage you to give them a whirl. These well-formulated products  can do wonders for your natural hair –even though they don't say "natural hair" on the bottle. You simply have to pay attention. Whenever a formula states that it is designed for dry, damaged, or colored hair then a bell should ring. Our hair is the driest of all hair types, so these formulas can work for us. Also, products designed for curly hair can work for us as well since ALL curl girls — no matter the race — have similar curly issues. With that said, here are are some "mainstream" products — that you may or or may not have heard of — that you should give a try.
Turn the page for the product list

Giovanni Direct Leave-In Weightless Moisture Conditioner
This leave-in conditioner is a fan favorite of women of all hair types. Whether your hair is curly or kinky, you are likely to fall in love with this great product. It is light, creamy, and rich. I've personally used it since I first went natural. I've never even considered another leave-in. It's that great. It can be purchased at Target, Walgreens, Drugstore.com, Vitamin Shoppe, and many natural food stores.
TRESemme Naturals Nourishing Moisture Conditioner With Aloe Vera & Avocado
This conditioner is touted as the holy grail of conditioners for naturals. It provides amazing slip for detangling!  I used to love VO5 Conditioner, but once I tried Tresemme I was hooked. It is rich and creamy… and did I mention slip? Slip for days! Available Wal-Mart, Target, Walgreens, Drugstore.com and more.
Burt's Bees More Moisture Shampoo
I'm sure you've tried Burt's Bees lip balms, but have you ever considered their hair care line? I forayed into the Burt's Bee's moisturizing shampoo, after using the shampoo/baby wash on my daughters.  Their hair was unbelievable soft, with minimal shrinkage. The next day, I bought the shampoo for myself and I haven't looked back since. You can find Burt's Bee's hair products at Target, Walgreens, Drugstore.com and many natural food stores.


Terresentials Mud Wash
Made popular by Naptural85, Terresentials is a great alternative for traditional shampoo. If you don't like to mix your own batch of Bentonite or Rhassoul Clay, then you may want to give this a try. Because it clarifies without stripping the hair or causing lots of shrinkage, it is a great shampoo option for naturals. You can purchase it online or at select natural food stores.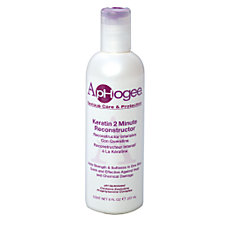 ApHOGEE Intensive Two Minute Keratin Reconstructor
Ok, so it's not exactly "curly girl" friendly, but it provides a great dose of protein for natural hair. Whether your hair is natural, transitioning, or relaxed, it is a great treatment for dry, damaged hair. Available at Sally's Beauty Supply Store
Additional Reading
5 Best Moisturizing Deep Conditioner
Protein Treatments: DIY vs. Store Bought Treatments
Have you tried any products that aren't specifically designed for "natural" hair? Please share your finds below!